We invite you to a weekly analysis of precious metal prices that are used in car catalysts. We will discuss how the rates have changed, among others platinum, palladium and rhodium.
Unfortunately, this time we do not have such good news for you as recently. Let's get to the details.
Platinum for a whole week with falling quotations. On March 1, the price was USD 862 / ounce. Already after the weekend it dropped to just 838.50 USD / ounce. Despite the delicate Tuesday growth, Wednesday and Thursday led to another drop by another 23 dollars. On Friday there was an unexpected increase of 3 dollars, which did not change the really bad situation of this precious metal. The values from last week differ significantly from those we could still observe at the end of February and to which we were slowly starting to prepare. The greater our disappointment with the graph.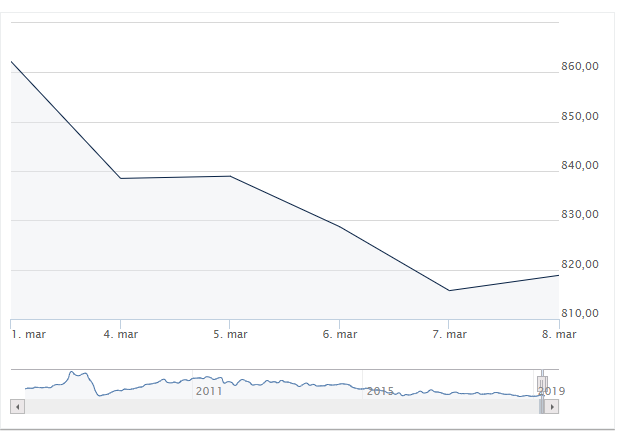 Source: bankier.pl
Palladium scores also do not impress. We counted on next records, while Friday, Monday and Tuesday caused a loss of less than $ 30 for every ounce. Despite the Wednesday upward trend, we did not manage to make up for the loss, and additionally Thursday and Friday were again characterized by a downward-going chart line. The final palladium value was the end of the week 1 470.90 USD / oz – which means 54 USD less than 26 February, when we recorded the last record. This is not the value that this noble metal has accustomed us to. Let's hope that the current week will be more beneficial for everyone.
At least for the family, we have really good news for you. The week started with a rate of 2,620 USD / ounce. The chart line went up sharply throughout the period, stopping on Friday 8 March at USD 2,850 / ounce. In this case, we are optimistic and we hope that the tendency will continue for at least the next few days.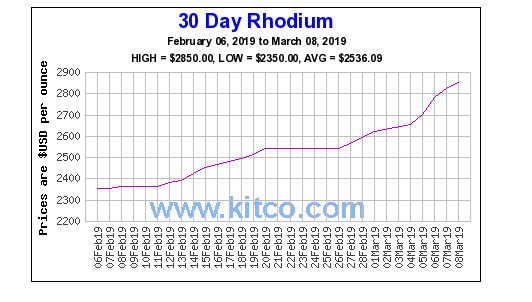 Source: kitco.com
Gold notes are also uncommon. Here, for almost a significant part of the week, the decline, the largest of which took place just after the weekend. The value of an ounce fluctuated around USD 1,280. However, there was an unexpected turn of the stock from Thursday to Friday. The rate jumped strongly up, closing the week with the value of 1 316.35 USD / ounce. Will the upward trend continue? see …
The quotations of silver were similar. Most of the time the course was flying down. It was not until Friday that the price of an ounce increased by 0.33 USD / ounce.
In conclusion, only the course of the family proved to be satisfactory for everyone. In the case of other metals
Keep up to date with precious metal courses by visiting our website.
You can always find catalyst prices here.