We invite you to another analysis of precious metal prices – platinum, palladium and rhodium, which can be found, for example, in car catalysts. As always, we will analyze last week's courses. We have both good and bad news for you. But let's start with those worse …
Has the platinum chart risen after recent falls in quotations? The week started quite badly – with another price drop. Its value after the weekend dropped to 788 USD / ounce. Despite the temporary improvement that took place on Tuesday, the next two days led to an even greater collapse of the price, which finally reached the value of USD 781 / ounce on February 14. After reaching this minimum, the platinum chart shot up like a slingshot and we could observe an unexpected change in the situation on Friday. At the end of the week, an ounce of this metal was already worth 809 USD / ounce. However, if the price seems to be large, let us remind you that in November the average price of an ounce was 848 USD.
It is quite different in the case of palladium. This metal has again exceeded its maximum value! This time the record fell on February 15 and amounted to 1 412,60 USD / ounce. This is undoubtedly the highest value that palladium has ever achieved. Is there a better time to convert catalysts or other materials containing this element?
Let's just remind you that palladium finds its application not only in car catalysts. Thanks to its properties such as corrosion resistance and above-average ductility, it is also often used as an ingredient in multi-layer ceramic capacitors, specialized connectors or wires. Also used to build photographic equipment. He is also eagerly used in jewelery, dentistry, as a component of dentures or surgery. Also – which probably would hardly anyone would expect – in some mirrors and watches.
Thanks to the extensive and well-equipped laboratory and qualified staff, Unimetal is able to detect even the trace contents of this element. Our spectrometer – ICP MS is considered the best possible equipment for this type of research. We can do such research for you. If you have materials that may contain platinum, palladium or rhodium, you can send them to us. Remember, however, to contact us first and discuss the details.
But let's return to the courses. There was a lot going on in palladium last week.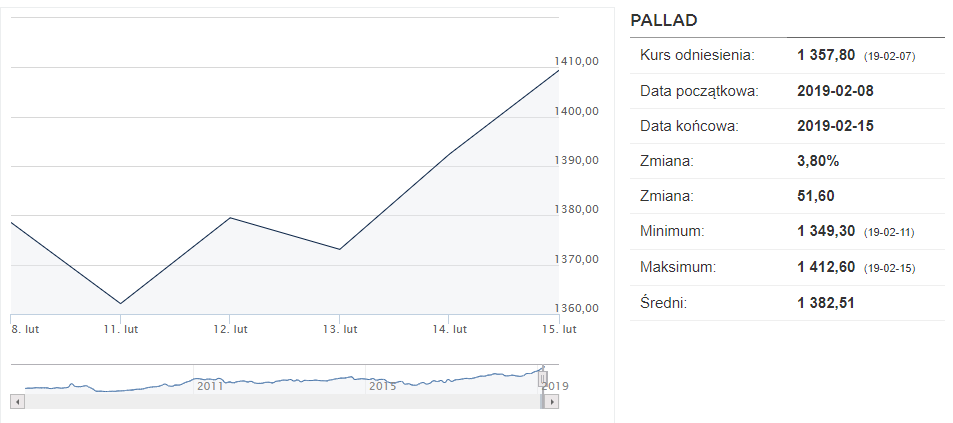 We noticed record results until the end of the week. Previously the exchange rate was hesitating. Still on Friday, February 8, it was $ 1,378 / ounce. Already after the weekend, he fell to $ 1,349 / ounce ($ 63 less than the maximum). By the end of the week, he had grown even more and included a small drop. It was only Thursday and Friday that led to such a significant increase. Was the palladium even more expensive this week? Current listings can be found on our website.
The week was also successful for the family, which still surprises us. The first four days of the period did not indicate that it would prove to be so satisfying for everyone. Starting from February 12, the chart began to climb quite strongly. Finally, on February 15, he reached the level of 2,450 USD / ounce. The last time with such family results was in 2008!
Gold, like platinum with large differences within the week. The minimum value was less than USD 1,306 / ounce. It was not until the end of the week that we could see an increase to USD 1,325 / ounce.
Silver with even greater losses. Until Wednesday, we observed a decline, by which silver reached the value of 15.72 USD / oz (February 14). As in other cases, Thursday and Friday resulted in an increase, however, the maximum price of February 8 (USD 15.86 / oz) has not been achieved.
USD / PLN exchange rate without major surprises. The highest value was recorded mid-week – 3.8511. On Thursday and Friday we saw a decline, which coincided with the increase in the quotations of many metals. EUR / PLN exchange rate with almost identical situation. Wednesday with the maximum value – 4.3419, and the last two days a clear drop.
Current prices of car catalysts are always in our price list.