Quotations of precious metals – platinum, palladium and rhodium, in recent weeks have brought us a large dose of emotions. It started with slow and stable increases in quotations. Later, we watched record high rates, to surprise everyone, the situation collapsed with a great bang. A real roller coaster experience. The most publicity has been made around palladium records, which reached the historical value of 1,565 on 21/03/2019 and rapidly reduced its price in one day. We write here about the source of such a great turbulence in the course of this element.
Last week, platinum surprised everyone and soared up. The first three days did not foretell great surprises. The rate remained at 855 USD / ounce. On Wednesday, we were first surprised. The chart showed the value of USD 874 / ounce. Thursday sealed success and platinum reached the price of 904 USD / ounce. The price of the ounce rose on Friday to the maximum value – USD 913,40. This is the highest result for over half a year! Will platinum surprise us in quotes? Further increases in the rate would be a nice surprise for everyone.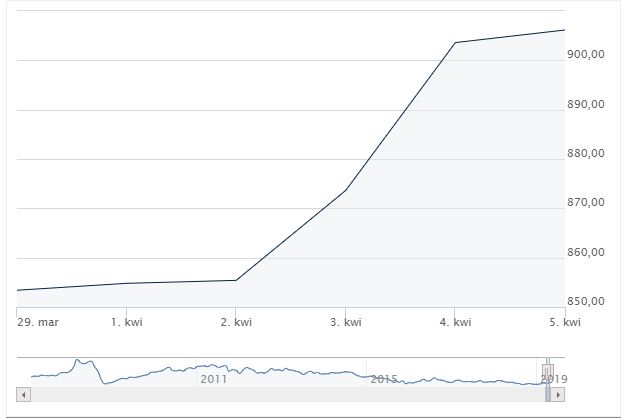 Source: bankier.pl
When it comes to palladium, we are dealing with further turbulence. Let us remind you that on Monday, March 25, an ounce of palladium was worth as much as $ 1,544, and two days later, this value decreased to $ 1,116. Last week we started with the amount of 1 354 USD / ounce. The next two days brought us an increase to 1 412 USD / ounce. After reaching this value, again we had to accept the sudden fall in quotations. The fall resulted in a price of USD 1,295,50. We were able to observe such a value for the last time in January.
The element that arouses equally great interest is rhodium. Recent quotes disappointed everyone who believed that the golden times of this metal have returned. We dealt with, as in the case of palladium with a large decrease – by 360 dollars in just 3 days. The past week began steadily, with an ounce price of $ 2,800. This state of affairs was maintained until April 1. The next day we recorded a minimum increase of $ 15, after which there was a two-day drop in value to USD 2,775 / ounce again. The price remained until the end of the week.
The gold quotation chart is extremely interesting. Over the last few days we have been able to observe increases and decreases alternately. What is important is that despite the appearance of the chart, these were not big differences, and the value of the ounce for several days fluctuated around USD 1,295.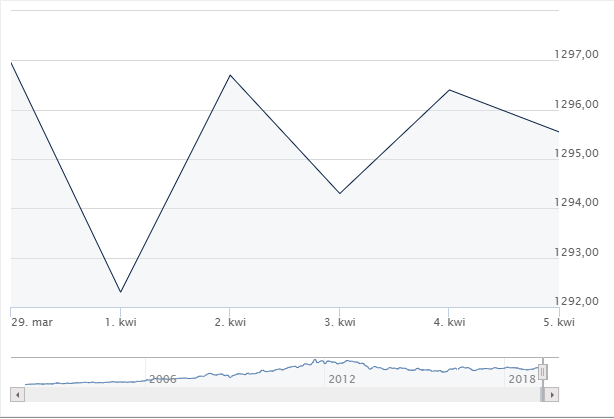 Źródło : bankier.pl
Nieco prościej prezentuje się sytuacja w jakiej znalazło się srebro. Tu odnotowaliśmy niewielki spadek początkiem opisywanego okresu. Spadek wynosił 0,2 USD/uncje. Następnie możemy mówić o 3-dniowym wzroście, jednak i tu różnica okazała się niewielka. Cena wzrosła do 15,12 USD/uncję. Po tym znów obserwować mogliśmy obniżenie wartości. Okazało się ono jednak znaczące i doprowadziło do ceny 14,88 USD/uncję.
Jak finalnie notowania wpłynęły na ceny zużytych katalizatorów ? Koniecznie odwiedźcie nasz cennik.
Zapraszamy także na następne analizy.