Today, Monday, we traditionally want to invite you to the analysis of precious metal prices – platinum, palladium and rhodium present in car catalysts. Have prices increased, dropped, or maybe remained unchanged during the last week?
In the case of platinum, most of the time we can talk about a downward trend. The initial price of an ounce was on 17/05/2019. 819 USD. On Tuesday, there was a slight increase. Then the price fell during the next two days by 18 dollars. There was a slight increase on Friday, but the chart line clearly shows the tendency of last week's changes.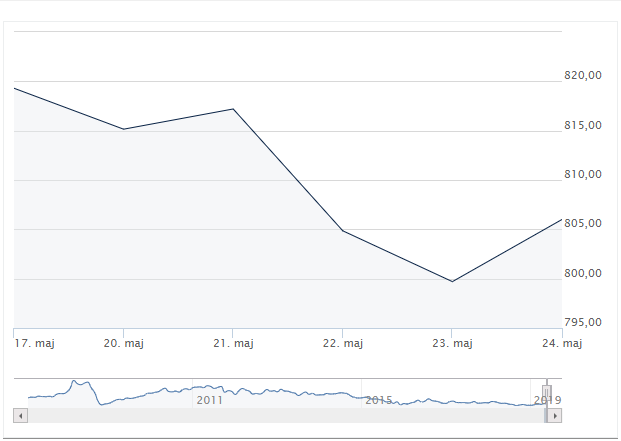 Platinum listing chart, source: bankier.pl
This tendency is also clearly visible if we look at the rates from the last month. We could observe the maximum price of an ounce by the end of April. At that time, it amounted to 904 USD / ounce. The minimum – by as much as $ 108 less – in the last days.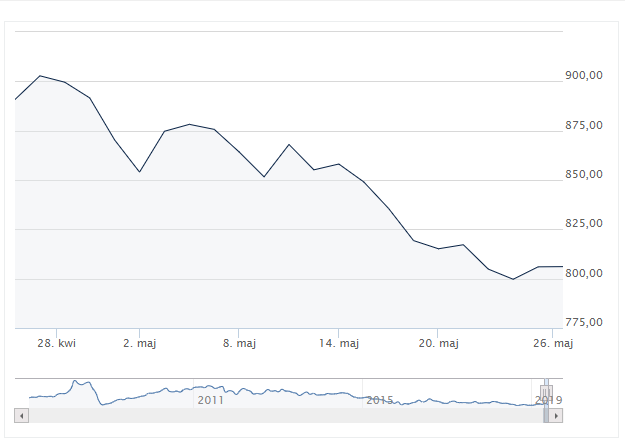 Platinum listing chart in the last month, source: bankier.pl
Pallad was quite unusually last week. We can see three clear tendencies of the last week – increase-decrease-increase. Each of them brought significant changes in the value of this noble element. The starting point was the value of 1 308 USD / ounce. Then came the already mentioned increase, which led to an increase in value to 1 326 USD / ounce. After a three-day drop in price, palladium reached the price of USD 1,305 / ounce. Friday surprised everyone with such a large increase, thanks to which this metal "made up for the loss" and the week ended with the amount of 1 327 USD / ounce. Also in the case of palladium, we can talk about a falling trend in monthly quotes.
The price of the family for most of the week remained unchanged at USD 2,620 / ounce. Only from 22/23 May the price decreased by 20 USD and this value remained until the end of the week.
In the case of gold, talk about improving the situation. After declines from the beginning of the week, the rate rose to USD 1,284 / ounce. This is the most positive accent of last week.
Silver also increased its value from USD 14.39 / ounce on Friday, May 17, to USD 14.55 / ounce on Friday, May 24, 2019. Even the drop in the exchange rate from the end of the week did not significantly reduce the final price.
In order to be able to follow the current precious metal rates, be sure to enter our "Stock Exchange rates" tab.
On our website you will also find a list of catalysts.