Healthy business relationships, which we have written about here, are always conducive to cooperation. Each company develops surrounded by other companies with whom it either interacts or competes. Remember, however, that joint action is always better – it builds and fosters benefits for both parties and makes us even better to create a new quality for our contractors.
Today we would like to present you a company with which we create such relationships. This is DS Auto, which is the largest buyer of catalysts in Poland, and at the same time an ideal business partner. It has its partner points throughout Europe, thanks to which they buy over 7,000 car catalysts a week! It's really amazing statistics that few companies in the world can boast of.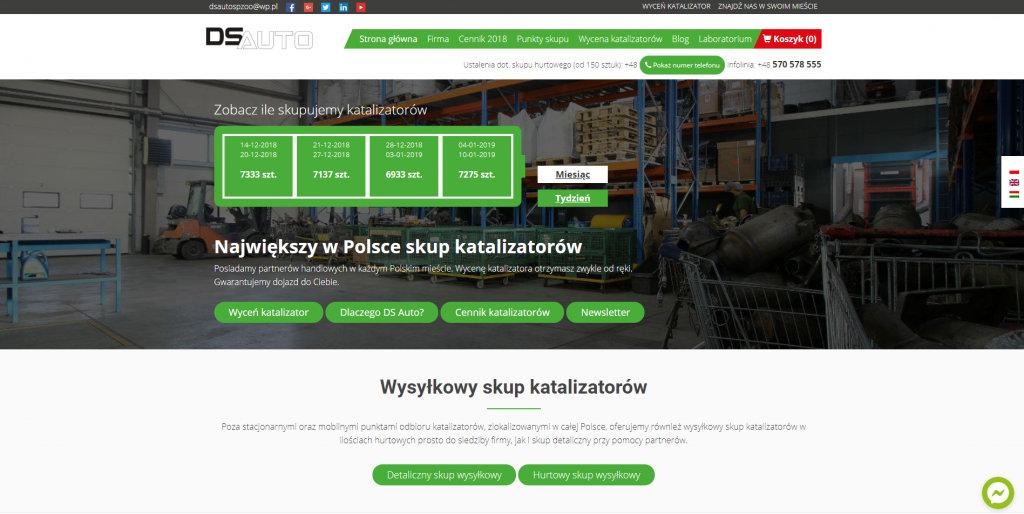 Today we would like to introduce you to the DS Auto company and thank them for the entire previous year of a healthy and satisfying business relationship.
The first thing to mention is the huge network of buying points owned by DS Auto throughout the country. Catalysts are purchased in both retail and wholesale quantities. The models they buy come not only from passenger cars but also from buses, trucks, machines of all types, ships and all equipment where this important element is present. They accept catalysts with ceramic and metal inserts, as well as the monolith – in whole, pieces or powder.
Points are located in all voivodships in Poland. Thanks to the geolocation option, you can easily find the purchase that is closest to us. Just enter your zip code, and the search engine will show us where in the area we can go to make a sale.
Thanks to their laboratory with rich equipment in the form of specialized spectrometers, they are able to accurately prune each batch of catalysts, monoliths and samples, which can also contain valuable precious elements – platinum, palladium and rhodium. In addition, this valuation is free.
In order for their permanent Contractors to also be able to spread their wings and operate effectively, they receive from DS Auto tablets along with the CatCatalog application, which contains a database of over 7 500 models of catalysts with updated prices.
In addition, every catalyst purchase or vehicle dismantling station with which they cooperate is advertised on the website and in social media. Thanks to the cooperation, they therefore receive the necessary tools and advertising, which is undoubtedly necessary considering the amount of purchase which is being created recently.
They are constantly testing new products and innovative solutions. They face the market needs. An example is the actions taken last year – including launch of a hotline, which helps in retail sales, chat on the website, which facilitates contact with all who need help. They also introduced a complete novelty – mail ordering, thanks to which everyone who values ​​their time, will be able to save it and sell their catalyst with the help of a courier. There are both mail-order shopping centers and one mail-order buying that accepts only wholesale quantities.
In addition, for wholesale customers they offer assistance in setting up and running a purchase, help in choosing the right spectrometer, which is an indispensable tool used in the daily work of professional buying. They also provide support in the preparation of sales documentation and environmental protection. If this also did not convince you, we will tell you that at the beginning of the year they introduced a new attractive offer – monthly promotions. Two promotions are foreseen for each month, which will be announced on the first day of each month. In January, the promotion included two very popular catalysts – GM20, and the second 045178ACB
The help is also available to retail clients in the field of education. The blog that they run enjoys great popularity. You can find there a lot of practical information related to catalysts, existing in the country purchase, and many motoring facts. If this is not enough, it is worth to look at the Catalyst Guide functioning under their care, where everyone who has a car will find advice related to repair and care not only for the exhaust system. There were even two interesting groups on facebook – one that brings together people who have car catalysts for sale, and another one for "happy" DPF filter owners, where they can tell about their adventures associated with diesel.
If you are interested in the automotive industry and aspects related to the exhaust system, be sure to subscribe to their newsletter to not miss anything.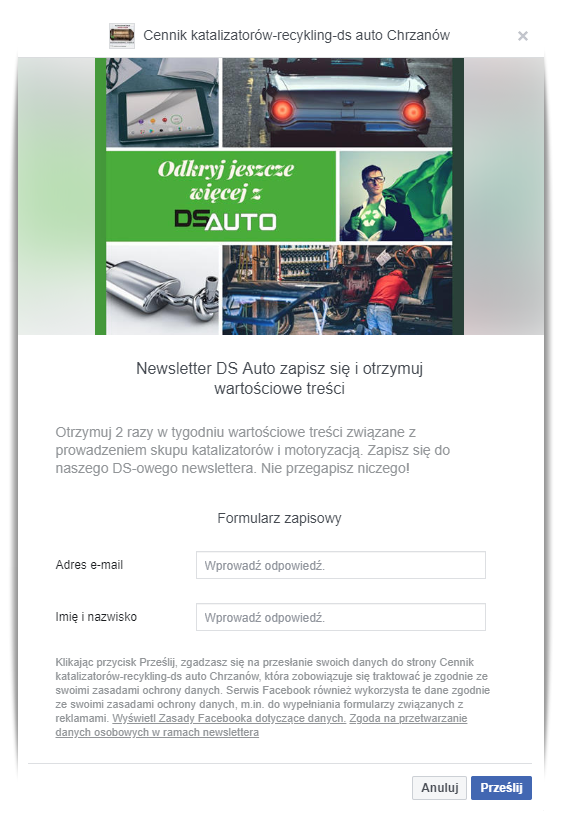 Concluding the article, we would like to mention that with DS Auto we will continue to create healthy relationships, for which we also encourage you!
If you are also interested in the opinion of others who have the pleasure of such cooperation, be sure to see this short video, and everything will turn out bright 🙂
How to contact them?
In the case of wholesale cooperation, it is possible to arrange a delivery by phone +48 604-611-917